I am one of those people, who have always had an interest in research, but as a teacher, rarely has time to go and find it. This has changed slightly over the last few years, as I've been working on my Masters, but as a general rule, it's on the wishlist of things I'd love to do whenever that 'spare minute' materialises from whatever hole it spends its time in!

With this in mind, I chose to attend this term's CAS Research Meeting, an informal group of like-minded people who want to explore Computing research that will help educators. Firstly, the mix of people was interesting: from currently practising teachers, to academics based in universities to other interested parties, everyone had their own motivations, but were equally supportive of each other.

The group started with a series of presentations surrounding computing-based research. First up was Genevieve Smite-Nunes presenting a project called Ready Salted Code. This was an exciting project which explores using dance, such as ballet, as a way to teach computing concepts. These also became part of the dance with data from the dancers' movement being visualised on screens surrounding the stage. Overall the project is proving a success and can make computing accessible to a whole other group of individuals who may not have been engaged in the more traditional ways. Even better, they're also working out ways to make it accessible classroom activities such as using Crumbles in KS2 PE lessons.

If you've not come across a crumble before, they look like this: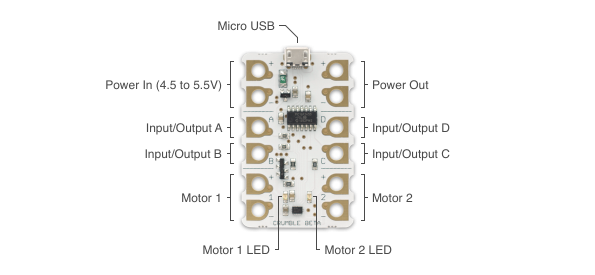 And are programmable boards which you can (simply) connect inputs and outputs such as lights, buzzers and buttons. For more information, check out the Crumble website.

Next, was a research proposal from a teacher who wanted to research the implications of mindset and computational thinking. As a teacher, I have been made very aware of Carol Dweck's 'Growth Mindset' theories over the years, so can definitely understand the link which Alex Price was making. This piece of work was in its infancy (still a proposal) so it was great to hear discussion from the various attendees of how work they've done previously (as a classroom practitioner or a researcher) might offer new perspectives on what was already outlined.

With my 'teacher' hat on, this session provided the most food for thought about 'computational thinking' in the classroom. It's definitely a term which is thrown around in computing education, I am just as guilty of this, but actually its current definition is relatively new (Wing, 2006). We discuss teaching 'computational thinking' and its importance in supporting children to tackle the challenges of computing (often programming), yet if we can't agree on a definition, how are we all measuring the same thing? Whilst I don't have an answer, it's definitely given me pause for thought!

Next, John Wollard talked about the power of Multiple Choice Questions (MCQs) and how careful we have to be when using them. There is lots of evidence that really well thought MCQs are a great tool for diagnosing misconceptions learners might have and their current level of understanding. However, they're only as good as the questions which they refer to… Writing a quick MCQ the night before the class you're teaching (because, again, it was on that ever-moving goal post of 'when I get a spare minute') is rather unlikely to result in informative data. However, if you've not previously heard of 'Project Quantum' check it out here because other people have begun creating MCQs for computing assessment on your behalf!

The big 'takeaway' here was how do you know if the questions you're asking are assessing what you hope they do? Again, there's not a clear answer, but it should definitely be considered. Add to this that I teach primary-aged children and think about how the question reads if your literacy and comprehension skills are still developing? Does that question mean the same to you that it does to someone older? Or even just to a more confident reader? One way to address this, is to add a 'why did you choose that answer?' field after each question (if you use the diagnostic questions website, it does this for you, however, I always take the questions and use the in Google Forms as I find this easier for the children to use). This question gives you insight into whether the answer was a 'lucky guess' or whether they misinterpreted what was being asked. Whilst it's unlikely you'll ever have time to read *all* of the children's answers, you can just zoom in on any children that get surprising results beyond what you expected.

Finally, Miles Berry, explored the data around which secondary schools entered children for GCSEs in 2018. Although not directly relevant to me (I'm a primary school teacher) it did cause me to reflect on some more overarching questions. For example, very few schools entered 90% or higher of their cohort to take the GCSE. This makes sense, as schools offer a choice of subjects at GCSE, so equally history or PE wouldn't have 100%, however, add to this the realisation that those who did enter a majority, scored significantly less (on average) than those schools who only entered a small percentage and there's a more interesting story there. Is computing for everyone? I know if I ask my less computing-savvy colleagues they'd be more at the 'no' end of the spectrum, yet is that just showing a lack of understanding for how to support *all* learners?

I find this particularly important when reading the existing educational research in computing education. Most of the research was undertaken at university level (with undergraduates) and some at secondary level. However, in these scenarios the individuals have already *chosen* to study computing (or Computing Science). When designing interventions, they're already working with a group of individuals who want to understand and progress because they're interested and invested, at least until they get the qualification they're working towards. This is not the case at primary. We have to get everyone engaged, interested and learning about computing regardless of their interests and belief in its worth! Personally, I feel this makes it much harder to apply what research has learned with an 'elite' few, to the masses of every child at primary school.

The group ended with some discussions about the National Centre for Computing Education and its role going forward. You can read more about this here.

Overall, I would recommend teachers attend these meetings (even if you think you'll suffer imposter syndrome!). They're usually planned in school holidays to allow those who are interested not to have to beg leave to attend and move around the country to make them as accessible as possible. Even if, like me, you're just a classroom practitioner with an interest, there is always something to be had from listening in on discussions and seeing where the thoughts take you!

For more information on CAS research, look here: https://www.computingatschool.org.uk/custom_pages/6-research